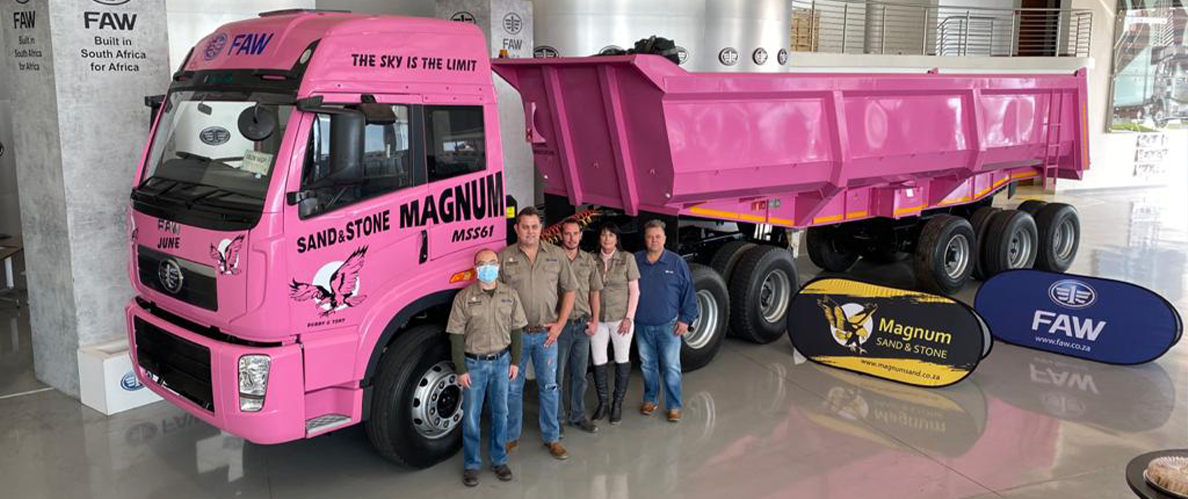 FAW – Article 2 – October 2020 – Prevention means preservation of Women in the trucking Industry
Prevention means preservation of Women in the trucking Industry
Many of you will by now know about the massive 'Rosy pink' coloured 33.420FT truck and trailer combination that FAW Isando delivered to June Jenkins, the heart and soul of a successful Alberton based family business Magnum Sand and Stone.
It was a special order for a very special woman owner of a business that has become a very valued FAW client. It was ironic too that it was delivered in August when we celebrated National Women's day to a woman who is such an example to others in this industry.
Breast cancer awareness and prevention
This article, therefore, goes out to all the women in the Trucking industry (and there are more than you think) from admin staff, to owners like June and Drivers too, to appeal to you in last month's 'Breast cancer awareness and prevention' to take care of yourselves.
It is not only Breast cancer either – According to research carried out by the National Cancer Registry (NCR) 2016, women are also commonly affected by colorectal, uterine and lung cancer, but Breast and cervical cancer are the most prevalent.
A bad news/good news story
The Trucking industry is often in the spotlight for a high rate of deaths, but breast cancer and cancers of the female genital tract also account for 0.7% to 1% of all deaths in South Africa – a pretty alarming figure!
The good news, however, is that as with most cancers, improved lifestyles and early detection can greatly minimise the chances of contracting or succumbing to it. So this is what women can do to help themselves… 
Have medicals and mammograms
Over the age of 40 all people, of both genders, should have regular annual medicals. Women, from around that age, but definitely from the age of 50 to around 74, should have regular mammograms as ordered by their Doctors.
Do regular self- testing
Testing for irregular lumps in the breasts should become almost a part of your daily routine when showering or dressing. Always be aware – and if any lumps are found immediately consult your GP.
Improve your Lifestyle
Regular exercise and a healthy diet can assist with reducing obesity, a common cause of cancers – and alcohol consumption should be limited to 1 or 2 glasses a day. To all our men truckers out there – these are all things you can assist with and should also be doing to prevent men's health issues!
Clients and women alike are precious
Just as we at FAW South Africa value clients like Magnum Sand and Stone and will always go out of our way to deliver exactly what their requirements may be, we value our women in the trucking industry too and hope this small piece of advice will urge them to carry out the preventative measures that will preserve them to grace our industry for many years to come.  
Remember all our vehicles are built by South Africans for Africa and we value its people and place great value on the relationships we build with them. Contact a dealer near you to view the incredible range of brand new and premium pre-owned Freight Carriers, Truck Tractors, Tippers and Mixers we have in stock – and ladies in particular – be aware and stay safe out there!